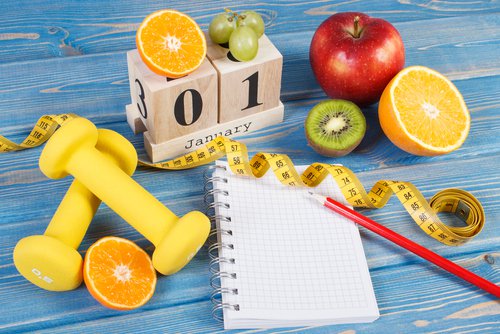 2020 has been a hard year for all of us, and if you're looking forward to a fresh start in the year 2021, you're not alone. In fact, fitness-based goals are some of the most common New Year's Resolutions in the United States -- but going it alone doesn't always get you the results you're looking for. Here are a few ways a professional Fitness Program can help you look and feel your best in the new year.
Professional-Level Weight Loss Guidance
One of the most common obstacles to achieving your New Year's weight loss goals is not knowing where to start. The fitness programming at Right Weight Center is designed to take the guesswork out of your weight loss plan. Our board-certified physicians, Eveline Ane, MD and Girish Rao, MD, will provide a detailed examination and collect data about your vital signs and medical history. Then, combining the findings of their examinations with your individual weight loss goals, these physicians will determine which of our four comprehensive plans is the right fit for you. This principle doesn't just apply to exercise regimens -- each of our four plans contains a nutritional aspect that provides you with guidance on how to safely adjust your diet with your personal weight loss goals in mind. 
Accountability For Your Weight Loss Routine
Statistically speaking, tackling weight loss by yourself makes you significantly less likely to stick with the fitness routines you set for yourself in January throughout the rest of the year. Keeping up with both dietary adjustments and an exercise regimen is much easier with someone in your corner, keeping you accountable and making sure you're staying on the right track. The fitness programs at Right Weight Center are all about continuous support and experienced, legitimate medical supervision, starting with a thorough evaluation that accounts for your vitals and your medical history. Once we've developed your plan, you'll follow up with a physician every three weeks to make sure you're making progress, and to receive guidance if you need it. Our mission is about lasting results, not quick fixes -- our plans do not incorporate contracts or hidden fees, and we're prepared to work alongside you to reach your goals long after the first month of the new year. 
Additional Medical Support for Your Plan
Sometimes a weight loss plan requires something more unique, or a little extra boost, to truly help you achieve all that you can. At Right Weight Center, our physicians set themselves apart by including the nutritional element vitamin B12 in each of our four fitness programs. Whether in the form of pure B12 or a lipotropic injection, you'll receive the vitamins, minerals and amino acids you need to jump start your natural processes and stimulate the natural breakdown of fat in your liver. B12 is responsible for our overall energy levels, but our bodies don't just produce B12 themselves -- we ingest it through food, or supplements, to help stave off conditions like depression, chronic fatigue, and disturbances in the appetite. B12 is also important to your immune health, which is vital in protecting you from colds, the flu, and even COVID-19.  
If you're ready to jumpstart your 2021 with an affordable weight loss program that is physician-supervised and designed with you in mind, don't wait to make the call. Reach out to the team at Right Weight Center for a free consultation at 301-345-7885.
Our dedicated team of physicians, physician assistants, and technicians have been helping clients achieve their weight loss goals throughout the Washington metro area for years. With our wide variety of customizable weight loss plans and supplemental fat-burning boosters, we'll support you throughout your journey toward looking and feeling your best in the new year.